What is TripIt and How Does TripIt Work?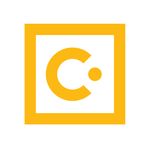 SAP Concur
Community Manager
Translate
Translate English content into 8 languages using our machine translation tool.
SAP Translation Hub is currently unavailable.
Machine translated by SAP Translation Hub.View original text.
What is TripIt / TripIt Pro?
TripIt is an award-winning travel organizing app that keeps all your details in one place. Its premium service, TripIt Pro, provides additional features that keep travelers one step ahead with helpful reminders and alerts throughout their trip.
If your company has Concur TripLink, employees may get a complimentary subscription (normally $49 USD/year) to TripIt Pro. This subscription can be used to organize business travel and/or personal travel.
What is Concur TripLink and how is TripIt related?
Concur TripLink helps organizations manage travel across a variety of booking channels by capturing itineraries (and receipts for Concur Expense customers) and integrating them into their SAP Concur solution. Integrations with these channels provide companies broad visibility into spend and duty of care, while business travelers enjoy flexibility and ease of use.
Bookings are captured in three primary methods. First, travel partner integrations, which include most major suppliers such as Marriott, United, Hertz, and more. Second, corporate booking portals that provide access to regional content. Lastly, TripIt, a traveler mobile app that captures itineraries from travel confirmation emails, regardless of where the plans were booked. When travelers use TripIt to organize their plans, they can share the trip with SAP Concur, getting an expense report started and providing their company visibility into their business travel details.
What are the benefits of TripIt and TripIt Pro?
The free TripIt app keeps you organized, providing a single itinerary with all your travel details regardless of where the plans were booked. The plans are accessible across devices and while offline. It comes with a variety of features to help while on the road. These features include; sharing capabilities, document storage, airport maps, travel stats, carbon footprint details, nearby places of interest, and neighborhood safety scores for your destination.
TripIt's premium service, TripIt Pro, is packed with additional features that give you a leg up on changes and help you make the most of all your trips. TripIt Pro will keep you informed on any flight changes, remind you when to leave, guide you to your gate/connection or baggage claim with walking directions and interactive airport maps. It will alert you if there's a better seat available, if you're eligible for delay compensation, and much, much more. See the difference between TripIt and TripIt Pro here.
How do I forward plans and get an itinerary started?
As soon as you book a flight, hotel, car rental, or other reservation, simply forward it to plans@tripit.com and TripIt will create a new itinerary in the app.  As you forward additional plans, they will be seamlessly added to that trip. All your plans will live in one place. You can access your trip details on the go, across devices, and even offline. You can easily send plans to your calendar or anyone you choose.
Tip: While you're adjusting settings, consider turning on Inbox Sync to automatically add plans from your email inbox to TripIt.
How do I check to see if I am eligible for a complimentary subscription of TripIt Pro?
Travelers may be eligible for a complimentary subscription of TripIt Pro if their company has purchased Concur TripLink. To check your eligibility, sign in to your SAP Concur profile on desktop. On the home screen in the Alerts section, you may see the following:

You can also check your eligibility by following the steps below to connect your account. Through this process, a pop-up will appear with text that either indicates if you are eligible for a complimentary subscription to TripIt Pro or not.
View if eligible: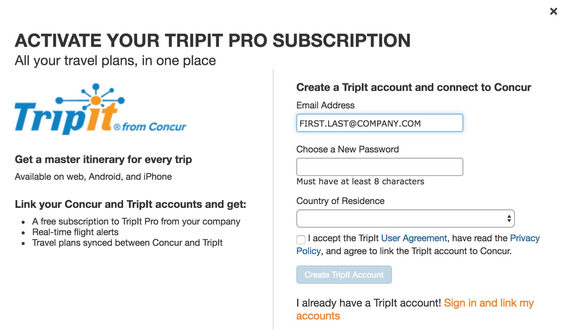 View if not eligible:
(However, you can still create a free account to use for your travels.)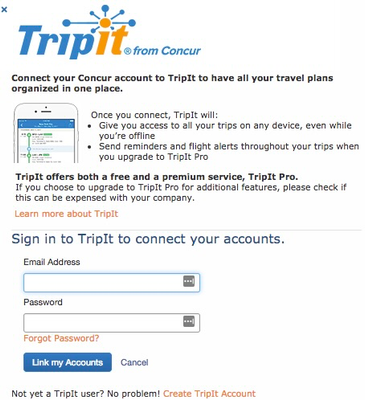 How do I sign up for TripIt and/or connect my account?
1. Visit the SAP Concur App Center
-Sign in to concursolutions.com. Click the App Center tab then select the TripIt icon. From here, select Connect.
2. Sign up or sign in
-Create a new TripIt account or click Sign in and link my accounts to connect an existing account. You can use either a personal or business email address to create your account.
3. Verify and add email addresses
-If you're creating a new TripIt account, you'll receive an email from TripIt asking you to verify your new account. Please verify your account per the email instructions. Add any additional email addresses you wish to forward confirmation emails from in your settings on web or mobile.
4. Download the app
-Get real-time notifications straight to your phone and access your travel plans on the go. Visit Google Play or the App Store on your mobile device to download TripIt.
Once you've connected your TripIt account to SAP Concur, if you book a trip via Concur Travel, those details will automatically flow to TripIt, getting an itinerary started for you. Likewise, if you book a trip elsewhere and add it to TripIt as a business trip, it will flow to SAP Concur to get an expense report started for you.
How do I designate personal/business trips (Share with SAP Concur) and get expense reports started?
You can use TripIt for any kind of travel – including both leisure and business trips. To designate whether a specific itinerary is a personal or business trip, select the Share with Concur toggle. If shared, you'll see a gold SAP Concur logo on the image of each trip. This can be changed at any time.
You can also designate a particular email address to always share trips with SAP Concur by default in your Settings. For example, when you have business travel, you can set your preference for plans associated with your work email address to automatically share with SAP Concur. Conversely, for personal travel, you can turn off automatic sharing with SAP Concur for plans associated with your personal email address. Those plans will not be automatically shared.
If a trip is shared with SAP Concur, the itinerary item(s) will be waiting for you in Available Expenses in SAP Concur, saving you time by helping you get your expense report started.