What apps or services can I connect to my SAP Concur profile?


SAP Concur
Community Manager
The App Center offers pre-built partner integrations with SAP Concur core products. You can find apps and services for individual employees and for company-wide use:
User Connections: As an individual traveler you can link these to your SAP Concur account to receive e-receipts or to improve the travel experience. Popular apps include Uber, Lyft, United Airlines, TripLingo and more.
Enterprise Applications: These applications are enabled by your company's SAP Concur administrator at the site level (for your company as a whole).
To find and connect to an app:
Go to the SAP Concur App Center: https://www.concur.com/app-center. Here you can browse through all the available apps that can be linked to your SAP Concur account.
Search for the app you want to connect.
Click on the blue Connect link.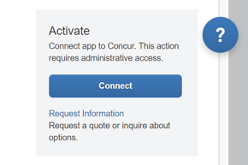 Note: Some apps, (i.e. Uber and Lyft) also require you to connect to SAP Concur directly in the app. This means you will need to connect in the App Center then launch the app and choose SAP Concur as the Expense Management option in Settings.
To learn more about connecting to partner applications, click here.