Not able to save my profile because of Wrong State /province
Hello,

I am not able to save my profile - personal information, because de value that I have entered in the State/Province field is not valid. I also tried to leave the space empty, but I still get the error message.
What should I write it down for Barcelona, Spain? I tried SP, BCN... but nothing.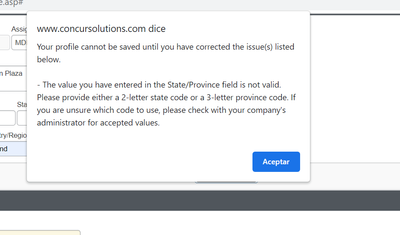 Thank you,
Paula
@pgonzalezconde here is what one user did to get the profile to save:
"Hello all, I found that if I deleted the state/region/province codes from all the fields and then re-entered them it saved the whole screen. I hope this helps everyone."

Thank you,
Kevin Dorsey
SAP Concur Community Manager
Did this response answer your question? Be sure to select "Accept as Solution" so your fellow community members can be helped by it as well.