How do I set up or change my bank account in SAP Concur?


SAP Concur
Community Manager
You can enter your bank account information on your SAP Concur profile and receive expense reimbursement by electronic funds transfer, if your company uses the Expense Pay feature.
To set up or change your bank account information:
Go to your Profile on the top right of the screen and click on Profile Settings; this will take you to your Profile Settings page.
Navigate to the Bank Information section listed under Expense Settings on the left side of the page.
From the Bank Country/Region field, select the area where your bank is located.
Complete all the required fields.
Click Save and Authorize.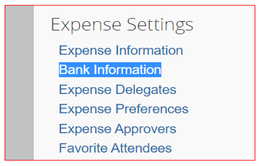 The Bank Information tab will show up on your profile, only if your company has the Expense Pay feature enabled. Once you have entered your bank account information, it will be eligible for expense reimbursement after account confirmation takes place. It takes on average three to five business days for banks accounts to be confirmed. When the account confirmation process is successfully completed, you will receive an email notification of the confirmation.