Concur App Login Fail/Block
Hello,
I attempted my login/password several times and failed, now I'm unable to reset my password via Concur App, even if I uninstall the app and reinstall I'm not successful. I see on the forum many have had that issue, even when changing the login credentials via computer...any resolution?
Thanks,
Lily
2 Replies
Re: Concur App Login Fail/Block
Dear User,
I have a couple of question:
1- Is the problem ONLY showing on your mobile application?
2- Does your company you are working for has employees set up in different regions (US, EMEA, Asia)?
3- Are you based in the EMEA region?
If Yes to all question please try:
1- Go to your concur application on your mobile as signed off, like if you had to put again your credentials (email and password)
2- Do not put your credentials but Double tap with 2 fingers on the top of your screen where is written in blue SAP Concur (this is on the top and just below you will see Sign in to Concur but don't sign in yet)
3- You should see a different screen on your mobile, scroll down and select System;
4- Verify the server is showing on your mobile... if you are based in EMEA you need to have https://eu1.concursolutions.com otherwise if it shows differently select the arrow beside the server name and select Production EMEA if instead you are based in the US, you will need to select Production US
5- Now sign in as normal with your email and password
Please advise how it goes, i tried to explain step by step on a problem we used to have from time to time and it was related to system allocated to different Region from mobile app.
Thank you
Alessandro Munari

Kind Regards

Alessandro Munari
https://www.linkedin.com/in/alessandro-munari/
Re: Concur App Login Fail/Block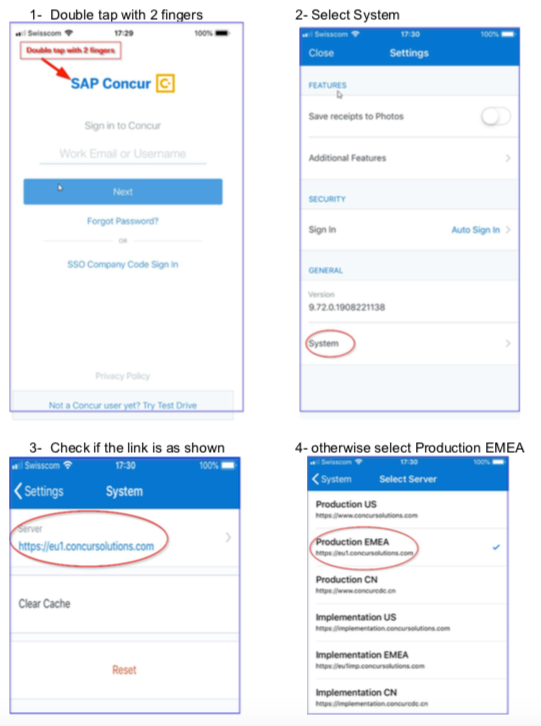 Kind Regards

Alessandro Munari
https://www.linkedin.com/in/alessandro-munari/