Update Cash Advance Exchange Rate on Expense Entries Setting
Is anyone using cash advances with the setting 'Update Cash Advance Exchange Rate on Expense Entries'? I expect this is supposed to translate all foreign currency expenses allocated to a cash advance at the same rate as the cash advance, rather than the rate applicable on the transaction date. These are the notes from the Cash Advance Setup Guide, which I'm finding really confusing: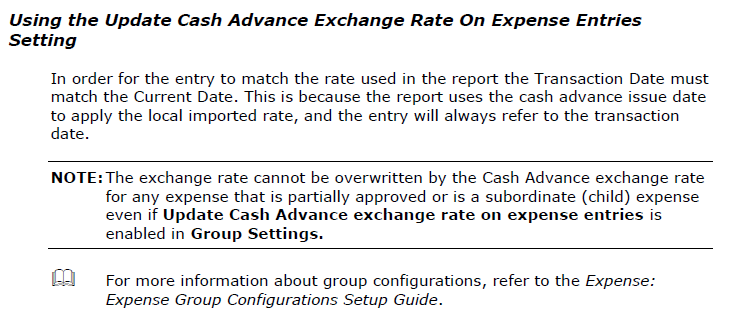 Can anyone explain how this works in practice i.e. how do you achieve 'Transaction Date must match Current Date'?
Thanks
Dean
Hi,
Thanks for starting this conversation!
It's an interesting topic. I am sure others have similar questions. I am looking forward to hearing from our community members!

Best,
Ashley Bragg
SAP Concur - Community Manager

Did this response answer your question? Be sure to select "Accept as Solution" so your fellow community members can be helped by it as well.