Hello , me and my shift colleague we work at airport and to get our airport id we had to pay for airside awareness training and dbs check. So now we dont know how to claim this money back. We tried to submit expense in SAP concur but we getting below errors and can't get over it :
Change the card type to Purchase on the allocation screen.

View

Only P-Card charges can be placed on Statement Reports.

Any help would be appreciated
1 Solution
Solution


KevinD
Community Manager
@Bartek97f I can tell you the resolution. When you created this expense report you selected the Report Type as: Purchase Card Report. This type of report is only used for employees at your company who have an assigned Purchasing Card and have transactions from that card uploaded into their SAP Concur profile. The only payment type that can be used for this type of report is Purchasing Card, not Out of Pocket.
The fix is to open your report then click Report Details. From the Details drop down, select Report Header. On the Report Header screen, select the Report Type field drop down arrow, then select either 1-Travel Expense Report or 4-Assignment Report. By selecting 3-Purchase Card Report the system thinks you are submitting expenses you purchased on your assigned Purchase Card. I've provided a screenshot below.
Let me know if this clears up the red alerts. 🙂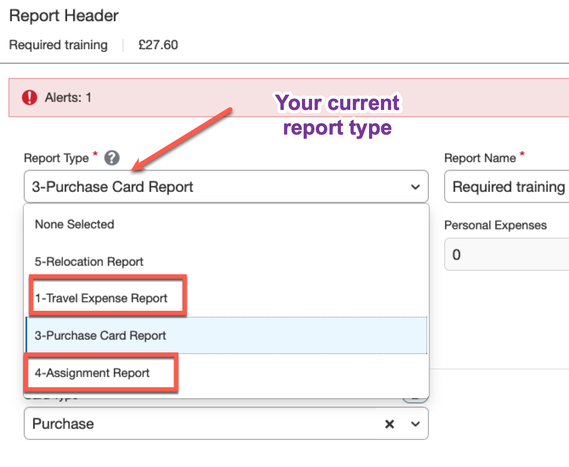 Thank you,
Kevin Dorsey
SAP Concur Community Manager
Did this response answer your question? Be sure to select "Accept as Solution" so your fellow community members can be helped by it as well.