Hi,
I received this payment rejection e-mail. And I have revised my bankaccount info as the e-mail had suggested. However, I am still receiving this kind of e-mail.
Looking forward for your help. Thanks a lot.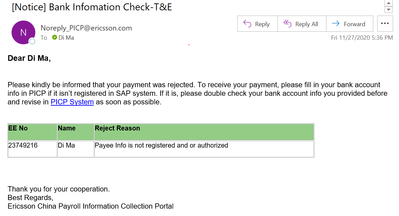 This email looks like it is from your company's direct payment solution within your payroll administration, and not from Concur Expense. I would recommend contacting your expense reporting team within the company to find out how best to resolve this.
They are working on it already. Thanks for your reply 😄