Good morning,
I have some employee expenses older that the company allows so Concur demans an explanation. Despite I explained I´m not able to submit it.
Would you be so kind to help me?
Thanks
I work for Fall Creek Farm and Nursery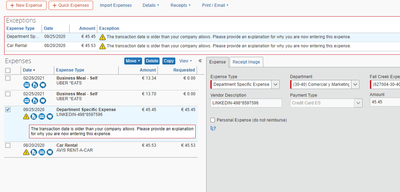 Dear @eortiz
From what I see the system is giving you "just" a warning but you should be able to submit the expense.
After entering the comment on your expense line, save it and if you finish you expense report submit it.. it should go.
Once the system stops from submitting an expense report, you should get a Red "!" which isn't the case now.
Please let us know.
Kind Regards

Alessandro Munari - Travel Expense Project Manager
https://www.linkedin.com/in/alessandro-munari/

@eortiz @Munari_alEXPert is correct. From your screenshot it shows that the overdue transactions are only causing a warning (yellow triangle) message. You should be able to submit your report.
Give it a try and let us know if you are able to get it submitted.

Thank you,
Kevin Dorsey
SAP Concur Community Manager
Did this response answer your question? Be sure to select "Accept as Solution" so your fellow community members can be helped by it as well.
Thank you all.
Finally that wasn´t the issue, there was something about a clearing account but now it´s solved.
Thank you for your help