New NextGen - Not Loading
Per video, User Experience should look like this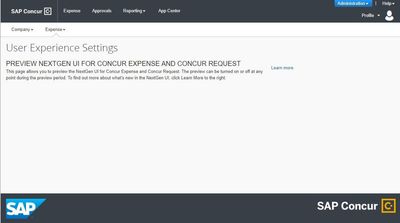 Mine looks like thisThe new version isn't loading. When I clicked on the video "How to Enable NextGen UI - Professional Edition" the User Experience Settings screen does not match. Thank you in advance!
2 Solutions
Solution


KevinD
Community Manager
@debbiegatto my guess is your screen looks different because the mandatory cutover started October 1st, so there was no longer a Preview available. You would be moved to NextGen UI automatically. No need to preview when your site would be transitioned for you.

Thank you,
Kevin Dorsey
SAP Concur Community Manager
Did this response answer your question? Be sure to select "Accept as Solution" so your fellow community members can be helped by it as well.
Solution

@KevinD Hi Kevin. I had a conference call with a Concur representative who was able to assist with rectifying the issue, which was internal. Thank you for your reply. 😃