How to delete available expenses from Manage Expenses Section
Hello,
I am in a puzzle as to why I can not remove an available expense from my "Manage Expense" section. This was created in error and I am receiving constant emails regarding "Concur Alert: Outstanding Credit Card Transactions".
The only option I get when I select the available expense box is to move it 'to new claim'. As shown in the below screenshot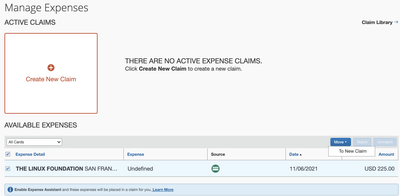 Please advice. Many thanks.
Regards,
Kevin
Hi Kefong,
your expense is a credit card expense so, depending on your Concur configuration, employees are able (or not) to delete them.
If you can't delete it by yourself, you have two options:
1. Contact your Concur Admin and ask him/her to hide this card transaction.
2. Use the credit card transaction to create a personal expense, depending on the credit card type (IBCP, CBPC, IBIP...) you will have to refund the amount to your company or not.
Check this post:
https://community.concur.com/t5/Concur-Expense/How-can-I-delete-or-erase-expense-item-shown-up-on-SA...
Hope it helps.
Thank you for replying. In this case, I will see if I can find an admin to remove this for me.