Foreign currency expense not matching concur
Hello,
Company- Shimano France
I have made a purchase on a French credit card. The purchase was made online in the U.S., in USD.
The amount of USD does not match the converted amount or hotel bill
The numbers- USD 75.11 on hotels.com and Concur, EUR according to Concur is 63.98 amount of hotel bill EUR 57.60
It seems like the currency converter is not correct, or possibly the hotel made a mistake. However, the amount that concur wants to see (63.98EUR) does not match the hotel bill of 57.60EUR.
Obviously I can't be reimbursed until the numbers match. Thanks for your help!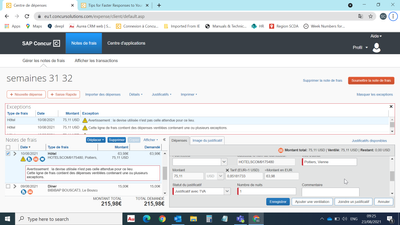 dear @SCDA
unfortunately I don't think is a mistake or a bug, as you got charge by the hotel in USD, and the amount there is in the invoice in Euro is only an equivalent the hotel put, but it is not fault of the Hotel if the credit card company charge a different exchange rate.
You should have itemise the bill in USD and not in Euro, also it is not clear the picture you attached as is too blurry while I try to enlarge it or please attach the actual invoice of the hotel if I understood wrongly.
Kind Regards

Alessandro Munari - Travel Expense Project Manager
https://www.linkedin.com/in/alessandro-munari/

@SCDA have you checked your MasterCard statement to see what amount appears there? Since the transaction appears in SAP Concur as $63.98EUR, then that is what was charged to your company card. If that is not correct, then you may need to reach out to the hotel or MasterCard to fix the discrepancy. As @Munari_alEXPert mentioned, it could be a conversion rate issue.
I looked at your report, but didn't see a receipt for the hotel. I was hoping to see the itemized hotel receipt to double-check it against the total that appears on your card.

Thank you,
Kevin Dorsey
SAP Concur Community Manager
Did this response answer your question? Be sure to select "Accept as Solution" so your fellow community members can be helped by it as well.