Sort order on Customer Community
Has anyone noticed the sort order of discussions on the Customer Community not working for them over the past week or so? No matter what Preference I choose (Topic Start Date or Latest Post Date) I end up with older discussions listed before newer ones. This is happening across different browsers and even if I'm not signed in, so I don't think it's an issue with my user account.
Example attached:
If sorted by Start Date the order should be 3,1,2
If sorted by Latest Post the order should be 2,3,1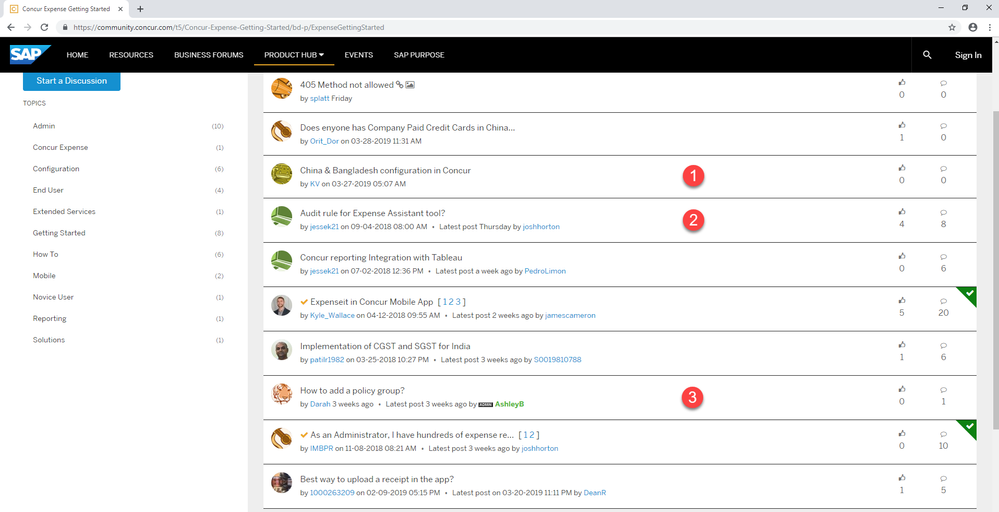 1 Solution
Solution

AshleyB
SAP Concur, Former Employee
Hi @DeanR
Following up on this question: we have had a chance to investigate this and found that there is no issue in the sorting feature. The reason the posts seem to be out of order is that those posts were moved into that discussion board after they were originally posted. We as community managers do this at times to keep the community organized and to make sure that each post has the best visibility possible for the topic they are discussing. Thank you again for bringing this to our attention. Let me know if you have any other questions.

Best,
Ashley Bragg
SAP Concur - Community Manager

Did this response answer your question? Be sure to select "Accept as Solution" so your fellow community members can be helped by it as well.