Convert Expense Amount in Concur Cognos
Hello,
I am trying to build a report in Concur Cognos and I need to convert some expenses made in different currencies to Euro.
I find the option to insert and convert the total report amount to Euro in the filters, however I just cannot do the same for the single expense amount. Does anyone can help, please?
Attached picture in case it helps to understand my difficulties.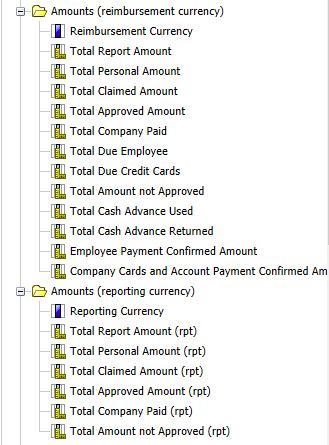 Hello there. Your screenshot is showing the Amount folders from the Report Header area of the data warehouse that is why you are not able to see amounts for each individual expense entry in the reimbursement currency and the reporting currency of Euros. What you want to do is follow this path: Expense>Expense Reports>Entry Information. In the Entry Information folder you will see two Amount folders. One for Reimbursement Currency and one for Reporting Currency. From your screenshot it appears you have your Reporting Currency set up as Euros, so all you need to do is Use the Entry Amount data item from each of these two folders to see the amount in the user's reimbursement currency and what that same amount is in Euros. That should do it for you. If you have any questions or issues, just send me a private message. Please let me know if this worked for you.

Thank you,
Kevin Dorsey
SAP Concur Community Manager

Did this response answer your question? Be sure to select "Accept as Solution" so your fellow community members can be helped by it as well.
To followup on Kevin's note. I strongly recommend you read this document. If you don't have time to read it all, just focus on the Currencies area of Section 8.
This is the summary of what it says: For transaction level data the system uses the exchange rate for the transaction date to do the conversion. For report totals it uses the exchange rate for the date the expense report was created.
Grant Chase - Sr. Training Consultant - SAP Learning