Need help on how to reprocess S4 failed concur messages
Hi Experts,
Can anyone help to reprocess the failed concur S4 message.
We are able to see all success and failed message in CTE_STEUP tcode and please find the below details about the issue and please help me how to reprocess those failed messages.
Step1:
Open CTE_SETUP tcode.
Step 2:
Open Financial posting concur documents.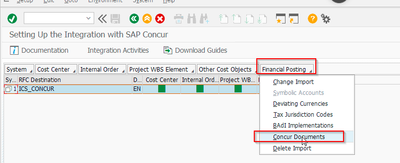 Step 3:
Now we can see all the Success and Failed messages.
Step 4:
Actually here, I want to reprocess the failed message and I have done the below option but I don't see any message flowing.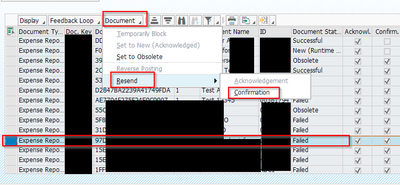 When I do the above step, I don't see any message are flowing to concur and even we didn't see the new timestamp for reprocessed message.
It's Navigating to the display log and it's not reprocess.
If it is reprocessed, we can see the new updated failed timestamp in CTE_MONI but we don't see any new messages in CTE_MONI.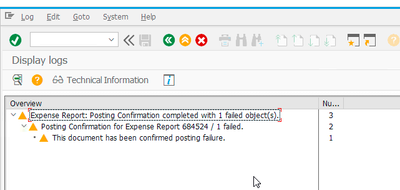 Note: Please let me know correct steps to reprocess the message.
Thank you,
Narasaiah T
Hello,
For Revert/Resend the failed expense back to SAP , please follow these steps :
1) Go to your Concur System;
2) Click on Expense;
3) Click on Processor then select Process Reports;
4) Filter for Report ID and insert the Report ID Failed;
5) Select the expense and click on Recall processor;
6) The approver needs to approve the expense again;
7) Click on button Feedback Loop -> Step-by-Step -> Import Documents from Queue;
8 )Select Single Document and fill out the Document ID with the ID from the Expense Report (UUID) and press enter;
9) The resubmitted expense report should now be seen with the status New;
10) Select the report, press button Feedback Loop -> Step-by-Step -> Send Acknowledge;
11) Select the report, press button Feedback Loop -> Step-by-Step -> Post;
Hope it helps.
Best regards
Ryma