CTE_SETUP --> Payroll --> Change Import
Hello everyone,
in our HR system, we have the integration payroll via CTE_SETUP.
We are changing our payroll import reference date for Today (we need this date for the IT0579) (see the picture).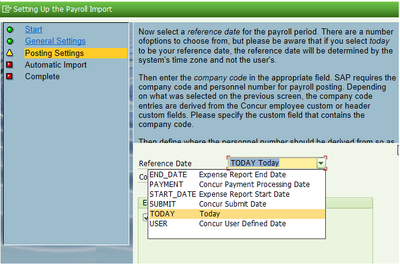 If we continue, we see in the next window the option to program this automatically.
Currently we have this job CTE_FIN_FEEDBACK_LOOP defined in different time slot to be sure that we take into account all our documents.
Please could you help me telling me if there are some impact if I save the configuration like this?.
the next integration payroll run is the next 13.05.2023, then I would need to clarify this topic before Friday because I have to change the import or reschedule our JOB.
Thanks a lot for your help. Carla 😀
@CarlaGuillem I suggest posting this in the Admin Group as the members there are more likely to have experience with what you are asking.

Thank you,
Kevin Dorsey
SAP Concur Community Manager
Did this response answer your question? Be sure to select "Accept as Solution" so your fellow community members can be helped by it as well.