Hello- our admin person setup 3 employees travel. Only one of the employees travel was routed to a Manager for approval. We think its because the box highlighted below in travel settings was not checked on either of the two employee setups. We want to "enable" the routing for approval to a Manger when employee travel is booked. Is this the box to check? Do I have to check the Unither Manufacturing LLC group as well? Also, the Manager Name needs to be entered in this section- correct- as this is where the travel will get routed too I assume (please confirm).
Thanks for the help!
Pat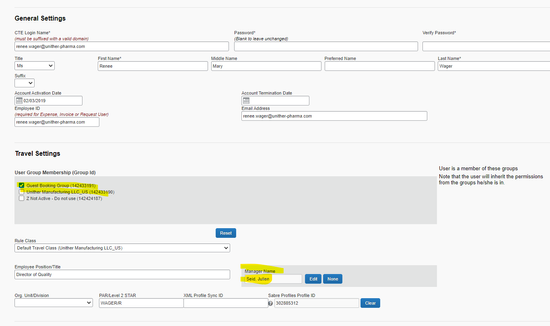 Hi Pat - The routing of the approval is based off of the travel policy set in the rule class. The Travel Policy also determines if a designated person or the Manager is set up to approve travel. Please take a look at the Rule Class that the users are in (under the User Group Membership that you have highlighted in your screen shot). The User Group Membership are Groups that your company has set up with different permissions.
To better assist you - please open a support ticket so that we may confirm the different Travel Rule Classes, the way they are set up for approval and a review of your User Group Memberships.
Thank you.