One Day Car Rentals Not Showing
The people on the "Help Desk" have no answers but suggested that I ask you.
My travelers who are attempting to reserve a one-day, next day car rental keep seeing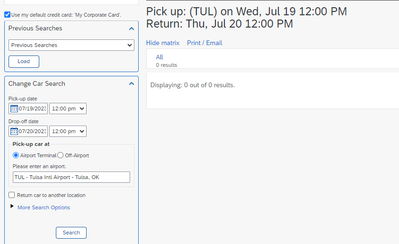 When I asked the Help Desk - they first kept telling me that the agreement was not loaded for that location - our agreement is Continental US. So it should not have to be loaded for individual cities.
I spoke with my Car Rental Account Manager, and he suggested having travelers book longer than the car is needed. Short story - It worked!
My question to you is - do you have this issue and if so, how do you direct your travelers around it?
Here is the last response from the Help Desk:
When attempting, I double-checked and performed additional tests and can confirm that a 1-day car booking for these vendors is not available either in GDS Sabre or in Concur. If there is no availability for the requested search in Sabre for these suppliers and GDS doesn't provide options, then Concur will not be able to display results.
For 2 days car search, the results are displayed. In this case, the issue lies on the vendor provider side and how they send the availability to GDS.
The best solution, for now, is what you already did and placed the message for the users. You can also raise this topic with your TMC if any action can be done from their side (open a ticket with Sabre and/or car vendors).



@Debbie-N-OK In this case, the Help Desk isn't wrong. Concur Travel can only display options that the rental car agency provides to the GDS. Concur doesn't control this information.
I wish I had an answer more to your liking. 🙂

Thank you,
Kevin Dorsey
SAP Concur Community Manager
Did this response answer your question? Be sure to select "Accept as Solution" so your fellow community members can be helped by it as well.