New errors for existing users...
New to company and took over Concur - first task was to figure out why (2) users kept receiving the error below. After multiple days with support, looping in the travel agency, and allowing them backend access - agency was able to figure out there were duplicate profiles and something with the GDS profiles was messed up for these (2) users. Great. Problem solved.
Fast forward to today. Another user who just booked in June & July is getting this error simply searching for flights. In addition - me, a brand new user with no travel history or GDS profile, gets the error as well. Is this something internal with Concur? Is there updates that occur that "break" something?
Thankfully our travel agency can see on the backend, SABRE, I believe? But she's having difficulty finding the error this time as well.
Any ideas why this keeps happening to different users for different reasons?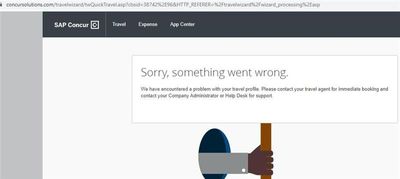 dear @jvanzuidam
those errors are most likely to a mismatch user profile information between Concur and the Travel Agency database or in all cases an issues on the database from the travel agency. This is VERY frustrating and was happening often with a travel agency I used in the past, but eventually, case by case, we did find a solution.
Best would be to contact the travel agency Account Manager with the details of the users having issues.

Kind Regards

Alessandro Munari
Thanks for the response, Alessandro. This was indeed the case.
Interestingly enough - unable to find how it was changed.