Need Kind Assistance: Hotel Information Expense
Hi Team,
I Intend to fill in all the details related in the Hotel, I mentioned the Country & the City, But the name of that Hotel was not found in the listed list of Hotels. Please guide / assist me how to move ahead.
I am sharing below the screenshot for the kind reference.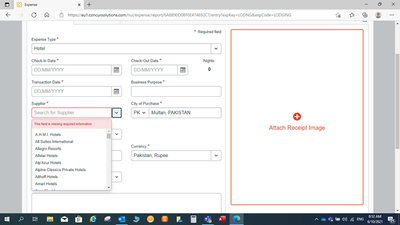 Looking forward to your kind reply!
dear @haris123
you should still be able to enter the name even if is not within that list and save.
If it wasn't the case, you would need to ask your system Administrator to add the hotel you wanted to add on that list.
Kind Regards

Alessandro Munari - Travel Expense Project Manager
https://www.linkedin.com/in/alessandro-munari/