Issue With My Profile Error Message
I am trying to make airline reservations and I am now getting an error message regarding my profile. Any suggestions? Thank you.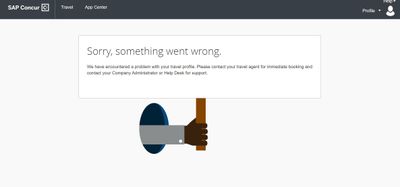 @StanNSales is this issue still happening? Did you call your travel agency to see if they can see the issue?

Thank you,
Kevin Dorsey
SAP Concur Community Manager
Did this response answer your question? Be sure to select "Accept as Solution" so your fellow community members can be helped by it as well.