Concur Travel is supported in what Countries?
I am looking for a list, at this point of those counties that Concur travel and expense does not support. Does anyone have that at their fingertips? For example, Japan? any counties in LATAM? Thank you.
@Cpk1220 we have certain countries that we have specific policies for, however for those countries not listed, we can create a policy for them based on their statutory regulations. I'm providing a list of the countries that we have policies for. This is in our Professional Configuration.
In our Standard version of SAP Concur, we do support these countries with country packs. If a country is not listed below, then there isn't an available country pack to turn on for our Standard version.
P.S. Don't mind the z-not used in the Policy names.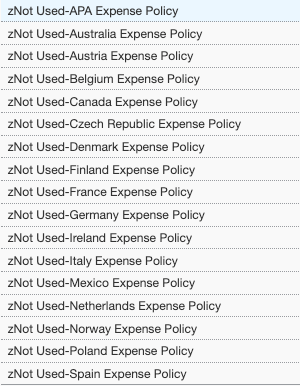 Thank you,
Kevin Dorsey
SAP Concur Community Manager
Did this response answer your question? Be sure to select "Accept as Solution" so your fellow community members can be helped by it as well.