Car rental reservation - Off-Airport option not working
Hello,
Sadly I am enforced to use this mediocre tool for car reservation. However, Off-Airport pickup option is not working correctly, no matter what address is input to the search. Any ideas ?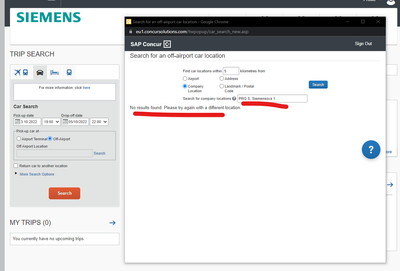 Dan
@dan0534 I have to ask...you know for sure that there are rental car offices within 5km of that office location? When it says No results found it means one of two things:
1. There isn't a rental car facility within the specified range. Try increasing to 10 or 20km.
2. The rental car facilities within the specified range do not have cars available for the dates you selected.

Thank you,
Kevin Dorsey
SAP Concur Community Manager
Did this response answer your question? Be sure to select "Accept as Solution" so your fellow community members can be helped by it as well.
Hi KevinD,
I have the same issue and I your suggestion still getting same 0 result found on my search. Please assist me with this issue.