Invoice Extract File - NAV Errors
We are at the end of our implementation process and our Concur rep is unsure of how to prepare our invoice extract file. The expense extract file is set up and working correctly in our system. We are currently using Mircosoft Dynamics NAV 2013.
My supervisor and I have been manually maniuplating the fields to try and erradicate the errors and we have gotten rid of all the errors. However, now when importing the txt file to NAV we see this as the message from NAV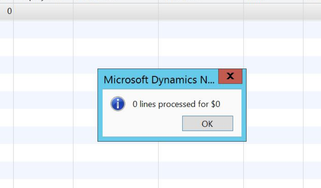 Does anyone have experience working with the invoice export file, importing to NAV or what the above message means? The txt file that we are uploading has dollar amounts so we are not sure why the system is reading the file as no lines with no dollar amounts.
Thank you!
HI Colleen,
We are using NAV as well and are trying to map out all of the issues with data migration from/to NAV. We intend to use the existing API's that Concur offers, however, there are other mater data items that we'd need to import before even thinking about migrating PO's into the system. I'm wondering if you might have a couple of minutes to "talk"? I'd like to get your feedback as a NAV using trying to implement Concur Invoice. I've asked repeatedly with our SAP Concur rep to suggest an existing customer to talk to however they've failed to even acknowledge my request. So I'm reaching out to you personally. My email address is slorrain@mcasphalt.com.
Thanks - Good luck with your project.