How do I tell Cognos Query or Report Studio to not aggregate line item details in Invoice
Hello, I am trying to figure how to tell Cognos Query or Report Studio not to aggregate values within line item details. For example, I have an Invoice Details report that provides all of the details within the request, including each allocation line and each of its properties. For like values - like GL account - it will summarize the values of that line instead of adding a separate line. I thought there was a way to do that at least in Report Studio but I can't figure it out.
So if account 740000 has two separate lines it will summarize that value - I want to break it out so that there is a line for each allocation line from the invoice. We have some transactions where 740000 would have a negative value and then another positive value - I want to have that broken out and not totalled.
I hope all that makes sense!
1 Solution
Solution


KevinD
Community Manager
@csimon I know exactly what you are talking about. In fact, when I do our training classes on Cognos Reporting, I mention this very thing. So, you are in luck today. 🙂
I would recommend turning it off in Query Studio, it's easier to describe. So, build your report, then on the left-hand menu, click Manage File. Next, select My Preferences. You'll see the preferences appear on the lower half of the screen. One of the options is Advanced Run-time Options. Click this. When the advanced options appear, you'll see a some check boxes. One of them (it will be checked) says "Automatically summarize detail values, suppressing duplicates". Uncheck this box. Be sure to save the report.
This should do it for you. I believe this will carry over if you then open the report in Report Studio.
Give it a try and let me know how it goes. Oh, and because I'm feeling especially generous, I provided a couple screenshots for you.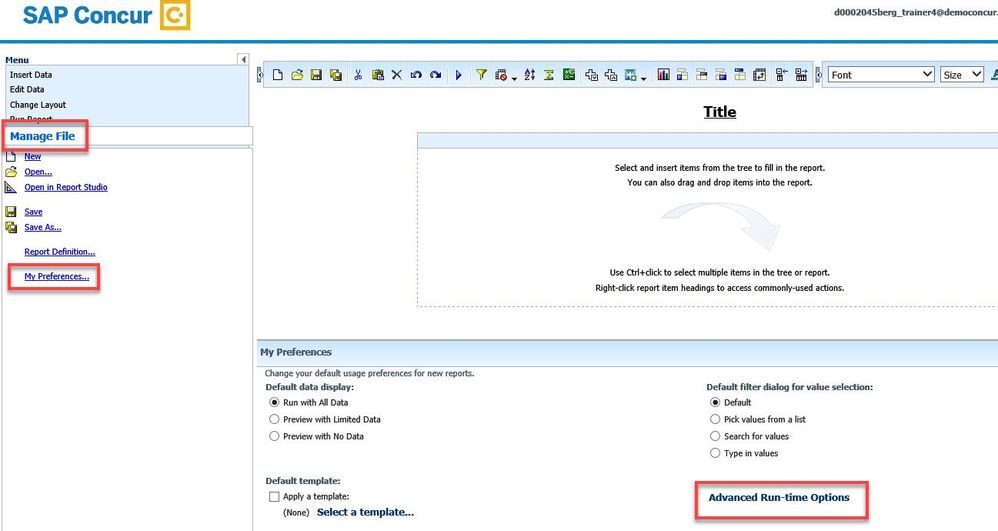 Thank you,
Kevin Dorsey
SAP Concur Community Manager
Did this response answer your question? Be sure to select "Accept as Solution" so your fellow community members can be helped by it as well.