"Unmatch Expenses" is now called "Separate"?
Is there a button to "separate" aka unmatch an expense or do you just continue to delete the expense. I need to make sure I understand this fully. I am not seeing a a Separate button. Should there be one or are you just changing the verbiage?
Thank You
PEGGY BURKE
2 Solutions
Solution
I think I found it in the documentation it appears to be a message that appears under certain circumstances rather than a button
PEGGY BURKE
Solution


KevinD
Community Manager
@Airfern1953 that is correct. Here is a screenshot for reference.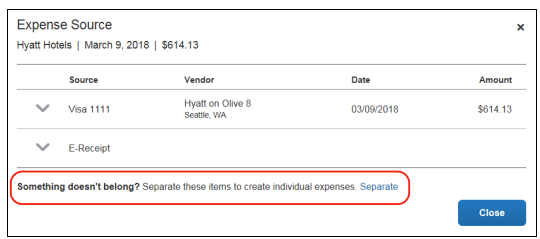 Thank you,
Kevin Dorsey
SAP Concur Community Manager
Did this response answer your question? Be sure to select "Accept as Solution" so your fellow community members can be helped by it as well.