how can I make self as an mandatory attendee in Concur?
Hi All,
We are using an SYSEMP attendee type code for attendee type as "EMPLOYEES". I want to create an audit rule with a Hard stop when a user is not adding itself as an attendee. Can you help?
Thanks
@aayushi261994 which expense types are you wanting this for? The system has the option for you to automatically include the employee who is creating the expense as an attendee. It doesn't sound like this is activated for the expense types you are using for group meals. However, if you want to avoid the risk of someone deleting their own name, you can create an audit rule to require the employee name. I've provided a screenshot below of the rule and how the conditions should be set up.
However, I do want to pose a question to you. What happens in the situations where someone, let's say buys lunch for a department meeting, but the person who made the purchase didn't attend? The system is going to require their name if you create the rule you want. I just want to put this on your radar to keep in mind.
Anyway, here are the rule conditions. REMINDER: before activating this rule for your employees, be sure to test it with a test user or test group. Let me know if there is an issue when testing.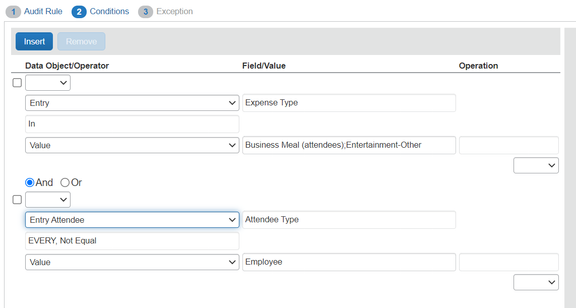 Thank you,
Kevin Dorsey
SAP Concur Community Manager
Did this response answer your question? Be sure to select "Accept as Solution" so your fellow community members can be helped by it as well.