Question...Is there a way the managers can see the reports before the employee submits the report?
I understand that when the report is complete, the employee submits it, it goes to the auditors, then goes to to the managers. Can the mana
ger make changes or send it back to the employee to make changes?
dkkerr27,
The user can select to "email" the unsubmitted report - which also includes any attached receipts.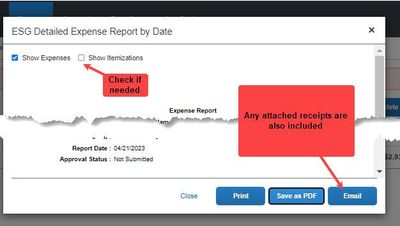 DLamont
Meant to also include where to go to get to the email option:

DLamont
@dkkerr27 to answer your questions...
What @dlamont mentions is one method. The other way is if the manager was the employee's expense delegate.
My guess is you are asking so the manager can review before submission to ensure the report is getting filled out correctly, which would reduce the amount of returned reports.
Your second question...the manager always has the ability to send back the submitted report. Managers can make changes, but usually these are very limited. Maybe two or three fields is all. Personally, I am not a fan of nor do I recommend managers make changes for employees. Here are my reasons why:
1. The expenses do not belong to and were not incurred by the manager.
2. Making changes for employees sets a bad precedent. It tells the employee they do not need to be accurate in providing the expense details because the manager will just fix it.
I hope this helps.

Thank you,
Kevin Dorsey
SAP Concur Community Manager
Did this response answer your question? Be sure to select "Accept as Solution" so your fellow community members can be helped by it as well.