expense report not viewable in Available Expenses portion of the Expense screen
I have submitted a expense report at Sep 07, 2022, but it can only be seen in the View Transactions tab of Expense. It is not viewable on the Available Expenses portion of the Expense screen at all right after the submission. When trying to copy it and resubmit, an error is received. Normally, my amex corp card got paid within 3 days after submission, however, it's not done yet as of today(Sep 15). How can we resolve this?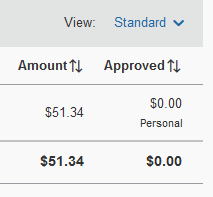 I noticed that the "Approved" amount is 0, it seems something wrong during submission, how can it be recovered?
Thanks!
1 Solution
Solution
When tried to resubmit the same expense, I got "This expense cannot be submitted until the corporate card transaction arrives and is imported/matched to your e-receipt and/or itinerary. If this expense was not paid with your corporate card, you may change the payment type to 'Cash'.", now I need to change the Payment type to "Cash" instead of "Pending Card Transaction", and submit it again?