View/Hide Company Card Transactions
As the admin I was under the impression I could go to Admin - Company - Tools - Company Card - Manage Transactions and I would be able to view (and hide) all transactions on our company cards. The only ones I can view are the ones that have already been hidden? I need to hide older transactions and have not been able to from this page. Any help is appreciated. Thanks!
1 Reply
Re: View/Hide Company Card Transactions
On the Manage Transactions screen, your search needs to use the Unassigned to Report option. You can find this in dropdown field labeled Show Only. This will return transactions that have uploaded to your users' profiles, but that have not been added to an expense report. These can certainly be hidden.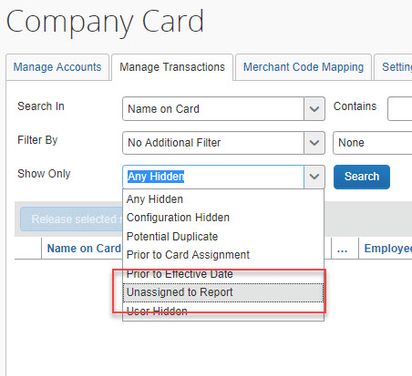 Thanks,
Kevin Dorsey
SAP Concur Sr. Training Consultant
Did this response answer your question?
Be sure to select "Accept as Solution" so your fellow community members can be helped by it as well.