User is unable to login to his Concur Mobile App
Web account is SSO, user is on an Android device and gets a message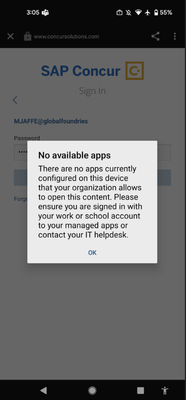 Profile has Concur Mobile rights, reset password. Any help or guidance is appreciated.
@Machiski hello there. I did some looking and it appears someone from your company had the same issue back in December. I looked at the support case notes and this is what was said for the resolution:
"As discussed, we figured out that the user was using the app from the MDM configured by the company. As mentioned in the knowledge base article, the issue occurs only when the MDM is involved.

The user then uninstalled the app and reinstalled the app from the Google Play store. Once done, the user was able to successfully login to the app without any issues."
MDM is mobile device management. I'm not sure how your company uses this, but it appears that if the user uninstalls the app, then goes to the Google Play market, they can download the app again and try logging in.

Thank you,
Kevin Dorsey
SAP Concur Community Manager
Did this response answer your question? Be sure to select "Accept as Solution" so your fellow community members can be helped by it as well.