I keep getting emails saying I have an unused Cash Advance balance. When I click on it, it tells me to go to Details, Cash Advances, Apply. But I don't see any of those options. What do I do and what does unused cash advance mean? Thanks for any help
A Cash Advance is either issued by your Concur Cash Advance Administrator or results from a cash withdrawal on your Concur-linked corporate credit card. You need to create an expense report and entries for whatever you spend the cash on, then apply the cash advance to that report in order to use it up. Any unapplied amount is an 'unused cash advance'.
Within an expense report you should have a dropdown for Report Details or Claim Details, with a Manage Cash Advances option: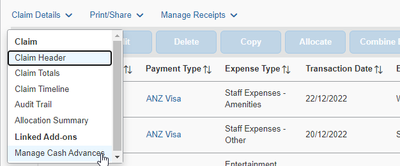 From the Expense home screen you should have a tab for Cash Advances:
@512371 the instructions that say go to Details>Cash Advances isn't super clear. It means from an open expense report go to Report Details>Cash Advances as seen in @DeanR's screenshot. Yours likely will say Report Details, not Claim Details.

Thank you,
Kevin Dorsey
SAP Concur Community Manager
Did this response answer your question? Be sure to select "Accept as Solution" so your fellow community members can be helped by it as well.