Unassigned Company Billed Transactions Report
I'm having trouble figuring out how to run this report wide open so than any unassigned transactions show up. How do I run this for all employees without choosing them individually? They aren't showing up automatically unless I type in a key letter such as "A" and then all the "A"s show up.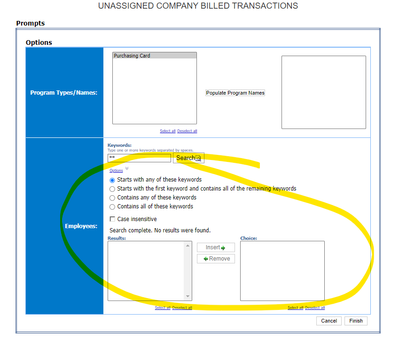 @tdankworth I always thought if you didn't do anything with the options for the Employee prompt, it would return all employees.
Another option would be to just click search without typing anything in the search field. This should return a list of all employees. You can then click Select All.
Did you try that?

Thank you,
Kevin Dorsey
SAP Concur Community Manager
Did this response answer your question? Be sure to select "Accept as Solution" so your fellow community members can be helped by it as well.
tdankworth, yes I agree with Kevin, if you do not put anything in the Employee Search Field, you should get all results. I checked that report and it is a standard report and that parameter is not required.
This report is to show any transactions that have tried to come into Concur on a card that has not been assigned to an individual in Concur. So you may not have any unassigned cards to report on? Are you looking for a report showing transactions not assigned to reports?
DLamont