Unable to use Concur products
My username is 108925881@amazon.com. I've previously used Concur over a year ago to book my business travel. However, when I logged in this time, I'm getting the following error.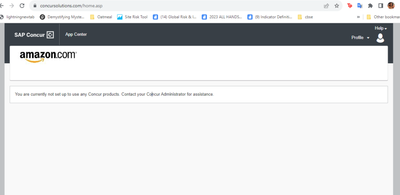 Hi, You see this error because you do not have the required roles to access Concur Travel. Please contact your company Administrator for further assistance..
@vaishai Thanks for the post. Were you able to get in touch with your internal contacts? Let us know if you need further assistance.

Thank you,
Lee-Anne Dautovic
SAP Concur Community Moderator
Did this response answer your question? Be sure to select "Accept as Solution" so your fellow community members can be helped by it as well.