Unable to Save Attendees to Meals with Business Guest - Error
I am unable to save attendees to an item "meals with business guest" I get an error stating, "There was an error saving your attendees." Shown below. I have tried saving the expense and then add the attendees and even going to the main expense page and back into the report. This only started happening with the most recent version of concur.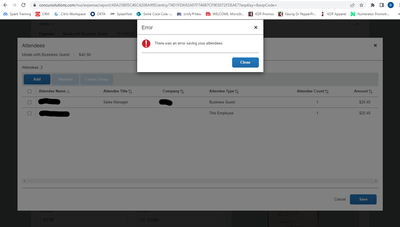 @kdrp123 I went in to look at your expense report, but I didn't find any open reports. Did you delete the report shown in your screenshot?

Thank you,
Kevin Dorsey
SAP Concur Community Manager
Did this response answer your question? Be sure to select "Accept as Solution" so your fellow community members can be helped by it as well.
I did still have open reports, not sure why you couldn't see them. But I did try again to add attendees and it works now. Did you do something to make it work?