Hi
I am unable to process with my per diem expense. I am getting the error (attached screen shot).
When the last time I submitted my expense, it was showing the last date without value in expense report. Therefore, I excluded it. May be this is the reason, because when I tried to claim expense of same date it's showing the same error.
Kindly help me in this regard.
Thankyou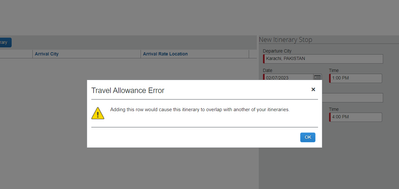 Hello @Danish , you're on the right track, this error is in fact triggered when itinerary date(s) was used in previous itinerary or itinerary was already used in different submitted report. It's possible to remove that date from the previous itinerary as long as the report has not been fully approved. Since each company may have different protocols for situations like this, I'd recommend discussing this with your SAP Concur Administrator to determine the next steps on how to manage this particular situation.
Alexandra Robison
Hi,
you can see it's coming as 0.00 on 07.02.2023 and 17.02.2023.
can you please help me out.


KevinD
Community Manager
@Danish you have an expense report named: Secondment Per Diem which you added a travel itinerary with dates 01/31/2023 to 02/07/2023. This report has already been fully approved.
Now on your report named: Secondment, you are trying to add itinerary dates that you have already submitted. The system is blocking you because it sees you attempting to claim per diem for days that you have already claimed. On this report, your itinerary start date needs to be 02/08/2023 and end on whatever the date is that you returned.
Whenever you see the little lock icon, it means those dates have been used already.

Thank you,
Kevin Dorsey
SAP Concur Community Manager
Did this response answer your question? Be sure to select "Accept as Solution" so your fellow community members can be helped by it as well.