Run a report that shows submitted expenses over 60 days old
Hello -
We are looking for a report that can be run monthly showing expenses that are over 60 days old from the date that the report is submitted.
Ellen Kleinlein
1 Solution
Solution


KevinD
Community Manager
@ellenk if you can modify a standard report, you can build the report you are looking for.
You would need to add these data items:
Employee Name
Report Name
Expense Type
Transaction Date
Last Submitted Date
You can add other data items as needed.
Once you have added these, select first the Last Submitted Date then the Transaction Date. Use the Insert Calculation button to see calculation options. One option says Days between Last Submitted Date, Transaction Date. Select this. You will now see a new column in your report that will display the results of the calculation. You will probably want to move the column as it will be between the two date data items.
Once you have this new column, select the column header. Click the filter icon and select Create Custom Filter. You should see Keep these values and Greater than. To the right of greater than, enter 60. This will return only entries that are over 60 days old from the date of submission. You can enter 59 if you want to include entries that are 60 days and older. See screenshot.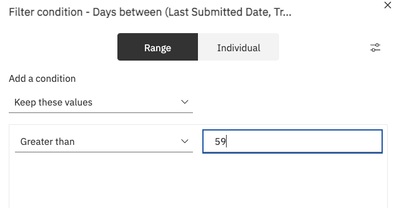 Save the report in your My Content folder. See screenshot. You'll see the My Content folder once you click the Save button on the toolbar and select Save as.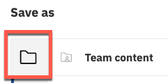 Once saved, look for the house icon to go to the home page. You should see the newly created report tile. Click the three vertical dots. Select Properties. From here you'll see options, one of which says Schedule. Click this, then the Create Schedule button. You want to run it the first day of each month since there is one day delay in when data appears in the data warehouse. See schedule screenshot.
That should do it.

Thank you,
Kevin Dorsey
SAP Concur Community Manager
Did this response answer your question? Be sure to select "Accept as Solution" so your fellow community members can be helped by it as well.