Restricting users to submit only one expense report per month
Hi All,
Is there any audit rule to restrict users submitting only one expense report per month?
1 Solution
Solution
rohanpatil

Super User
Hi @Saikat ,
I have not done this before but took a look at the available documentation and inspiration from what @KevinD and @Snell suggested earlier.
Add Report start and end dates to the report header and make it mandatory. Make sure you use the standard start and end date fields and not custom fields named in this way.
Instruct employees to put start date as the first day of the month and end date as the last day of that month. You can check this either at manager approval or accounting review step.
Setup audit rule with condition Dates Overlap Another Report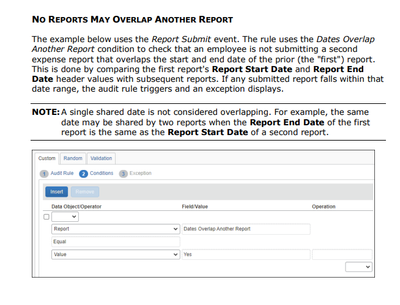 Best regards,
Rohan
Best regards,
Rohan


Remember to tag me if you respond or feel free to mark this post as Solved if you don't have further questions or comments. To tag me on your response, you click the Reply button, first thing to type is @. This should bring up the username of the person you are replying to.


Best regards,
Rohan
Fellow Concur Site Administrator
Did this response answer your question? Be sure to select "Accept as Solution" so your fellow community members can be helped by it as well.