Receipts keep posting to incorrect dates
Hello! Each time I add a meal receipt to my expenses list it lists it as the day prior. When you select the receipt it is listed as the correct date but the day prior when viewed as a list. This occurs when I manually enter the information as well as when I auto upload the information by taking a picture of the receipt. How can I fix this issue? Thank you!
@AmandaSteinman could you please screenshot what you are explaining? I did a test in your account and added three entries to a report. Each entry shows the Date as the same date as what is on the receipt. I took screenshots of what I see. The receipt image says 05/10/2022, the date of the line item shows 05/10/2022 and in the details of the expense the transaction date shows 05/10/2022. So, I'm not sure what exactly the issue is.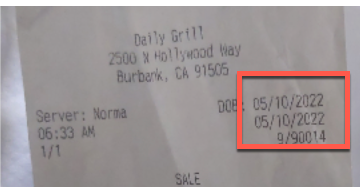 Thank you,
Kevin Dorsey
SAP Concur Community Manager
Did this response answer your question? Be sure to select "Accept as Solution" so your fellow community members can be helped by it as well.
I have two receipts that posted incorrect date by one day. This causes Alert exceeded the daily limit for personal meals for next day. Added business justification and note explaining posting error. Alert will not clear and cannot submit report.