Parameters for initial credit card activity
Is there a way to choose a START DATE when adding a personal credit card? I don't really want to add all the activity on my card.
@devo So I'm clear on exactly what you mean...when you say, "adding a personal credit card" are you referring to using the Expense Credit Card option to sync your personal card to your SAP Concur profile?
You don't have to add all the activity on your card, but if you could provide a little more detail on what it is your are attempting, that would be great. If you can provide a screenshot of where you are adding your personal card, that will help tremendously. 🙂

Thank you,
Kevin Dorsey
SAP Concur Community Manager
Did this response answer your question? Be sure to select "Accept as Solution" so your fellow community members can be helped by it as well.
@KevinD , I apologize for the confusion. I'm new to Concur. Yes, I added my personal card today and sync'd it to my cr card login. I don't need all my previous charges in Concur. I really only want it to start at the date where my reimbursable charges will be taken into consideration. NOTE: There's only 1 charge to be reimbursed of these 41 charges.
I hope this snipped image helps...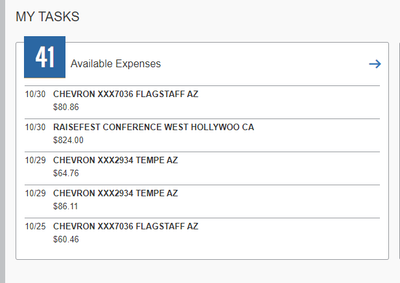 There will always be lots of charges that are personal that won't be reimbursed so maybe I should do it differently?? Your feedback/input appreciated.