No option to remove or delete a receipt from an expense
I attached a receipt to an expense on the mobile app. I would like to remove it (now using desktop app) but there is no option to remove / delete; only add.
2 Solutions
Solution
DeanR
Frequent Member - Level 1
Are you able to attach a screenshot of the receipt image and available options? This is how it looks for me when I open the receipt image from Available Expenses for an ExpenseIt item.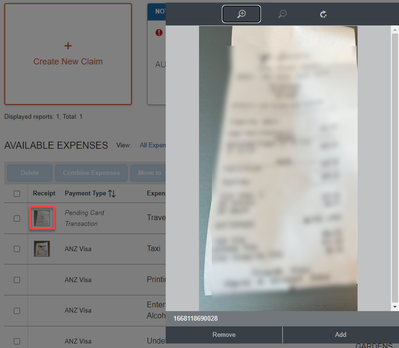 Note: if the ExpenseIt item has already been matched to a corporate card transaction then you'll need to separate them first.
Solution


KevinD
Community Manager
@sheila_bengtson receipts uploaded via the mobile app can only be deleted from within the mobile app. They cannot be deleted using the Desktop version.

Thank you,
Kevin Dorsey
SAP Concur Community Manager
Did this response answer your question? Be sure to select "Accept as Solution" so your fellow community members can be helped by it as well.