New UI - Bug during proxy Menu LoggedAsShort?
While doing a Proxy today on the new UI, I noticed that I lost the users name and it was replaced with a "Menu LoggedAsShort". Anyone else seen this?
Screen print below: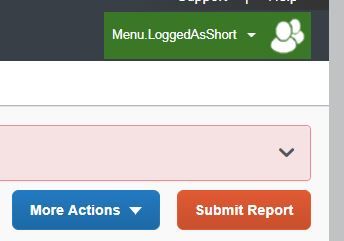 Hi, @DavidW! You mean you don't have an employee named "Menu.LoggedAsShort?!"
This isn't a bug as much as a blip related to Saturday's release. It's working now for me, so I'm hoping the same is true for you.
I've communicated with the team and this should be resolved today or tomorrow, if not already. (The functionality is working - you ARE successfully proxied in as the person. It's just the labeling of the person's name that's not displaying correctly.)
THANK YOU for letting us know.
Jody Wilkins
Product Communications at SAP Concur

Thanks for the quick reply.
You are correct - it is working fine. Some admins will get confused when they have so many they proxy for.