Lost airport parking receipt
misplaced airport parking receipt and cannot submit expense report, what is the process?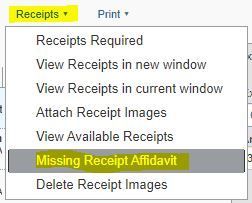 @sea2tee2003 When this happens in my company, we have to attach a "Missing Receipt Affidavit" to the expense. I hope this helps!
@sea2tee2003 did you get this resolved?

Thank you,
Kevin Dorsey
SAP Concur Community Manager
Did this response answer your question? Be sure to select "Accept as Solution" so your fellow community members can be helped by it as well.