Is there a report that shows information on active audit rules?
Hi all,
I've been asked to pull together a listing of our active audit rules and how they function. I thought this would likely be an Intelligence report but I cannot find it. Is anyone aware of this report?
There is a Configuration Report under Expense Admin that displays your audit rules (and entire account setup). I think you may need Unrestricted Expense Admin permissions to access. It does include active & inactive audit rules, so you may need to copy/paste to Excel and then filter. I've not tried pulling this information via Intelligence since the configuration report contains those details.
Administration > Expense > Expense Admin > Configuration Report > Audit Rules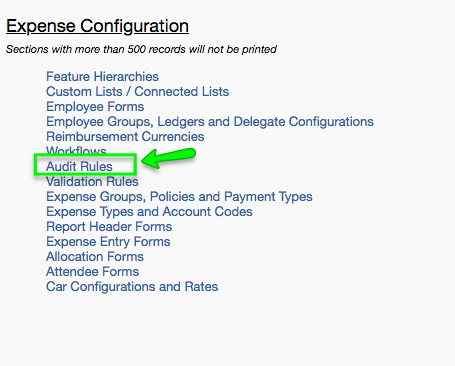 -Amy
It is not available in Cognos reporting, so the Configuration Report is your best bet.

Thank you,
Kevin Dorsey
SAP Concur Community Manager
Did this response answer your question? Be sure to select "Accept as Solution" so your fellow community members can be helped by it as well.