InterContinental Hotel Group or IHG?
IHG hotels is not listed as an option to select for Expense reports. This is a major hotel brand, does anyone know if there's an issue with the pre-populated options?
Thanks!
@cmalik I just proxied into your SAP Concur account and opened the expense report you have named Title or Header. I added a Hotel expense and went to the Vendor field. I typed in the letter "I" and saw InterContinental Hotel Group (IHG) as an option. See screenshot below. Can you take a screenshot of what you are experiencing please? That way I can see if you are doing something different or are possibly on a different screen. Please take a screenshot of your entire screen.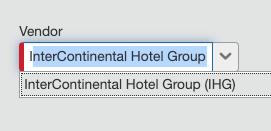 Thank you,
Kevin Dorsey
SAP Concur Community Manager
Did this response answer your question? Be sure to select "Accept as Solution" so your fellow community members can be helped by it as well.