Intelligence reporting and report output
I have been doing reports in Intelligence for 2 years but all of a sudden i'm having some issues with the output. I can run the report and see the data but when i try to change the output from HTML to anything else it won't work. Can anyone else me with the following issues because its very frustrating that i have to take so many extra steps to get the report how i want it.
1.PDF- i just get this sign showing its not available. Why can't i PDF these reports? [ See SAP Intelligence PDF example]

2. Excel- I have to save the report before opening it and can only open it where i saved it. This pop up doesn't allow me to either open immediatley or 'save and open'. What setting have i missed/changed that is not allowing me to just hit open and see it in excel? [ See example-User Rating Summary- Expense excel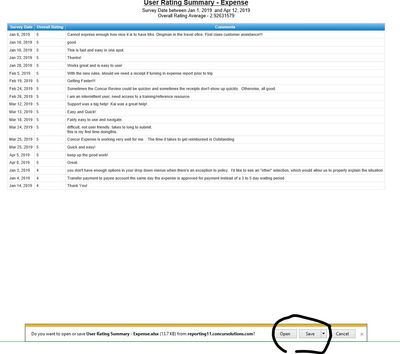 ]
Hi @Mjsorensen
Thanks for posting!
This is a good question. Have you created a support ticket? Our support teams might be able to provide some insight if this is a technical issue.
I am also interested in hearing from your fellow community members. Has anyone else seen this? Thanks in advance for sharing!

Best,
Ashley Bragg
SAP Concur - Community Manager

Did this response answer your question? Be sure to select "Accept as Solution" so your fellow community members can be helped by it as well.