I had an incorrect charge for $104.00 on my expense report. I called the bank and they said there was only one $104.00 charge on my credit card. They said SAP must have added it on.
I did have roadside assistance for $104.00 on 3/16. I dont know what the last expense is from FLA. That charge is not on my card according to the bank, Can you please remove it?
thank you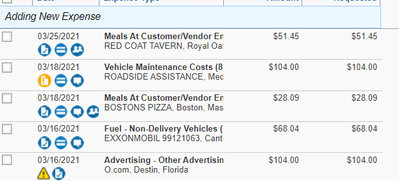 2 Replies
@bkowalski1 hello there. A couple things for you to know: 1. You can remove this yourself. Just click the little checkbox to the left. Once selected you will see the Delete button above your list of expense line items become active. This will remove the expense from your report. 2. For future reference, no one on this forum can delete anything from your expense report, not even us Concur employees. 🙂

Thanks,
Kevin Dorsey
SAP Concur Sr. Training Consultant

Did this response answer your question? Be sure to select "Accept as Solution" so your fellow community members can be helped by it as well.
dear @bkowalski1 @
apart the already given clear instructions from @KevinD I would have some question based on your request.
The 2 transactions for 104 Dollars are, based on your screenshot, one on the 16th the other on the 18th March.
By checking the screenshot I would guess the correct one is the one of the 18th March, so you need to include there the receipt (which now is missing) and remove the one of the 16th.
My question:
- Did you use your mobile application, taking pictures using "ExpenseIT" on the application?
If so, I would understand the problem, as once the system is trying to read the receipt and transfer it to your expense report, it might ready it wrongly (amount, date, currency..) you would need to check each upload reading is correct. To then cancel completely the actual cash transaction which shows from the 16th March, you will need to remove it from the expense report as said already by Kevin, and go to the "Available" transactions on your system which generally are listed your credit card transactions and any receipt waiting the match with the credit card. Select the transactions and the delete function. Please confirm if this was the case. Thank you.
Kind Regards

Alessandro Munari - Travel Expense Project Manager