I cannot login to Concur Expense Web
Hi Team,
I cannot login and see the below error.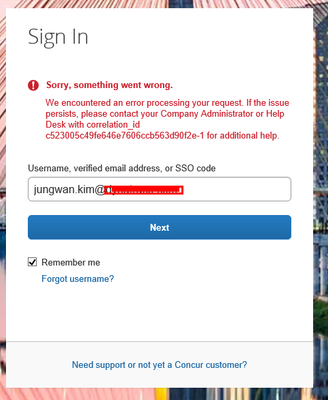 I have logged in well so far.
What can I do?
Concur Expense was having partial outages today according to Concur Open. If you try signing in again, it should work as it currently is back to OK. You can check Concur Open anytime to see if there is an outage in your area.
Hope this helps,
Jessica
Travel and Expense System Administrator
@kjwdream were you able to get logged in or are you still experiencing the issue?

Thank you,
Kevin Dorsey
SAP Concur Community Manager
Did this response answer your question? Be sure to select "Accept as Solution" so your fellow community members can be helped by it as well.
Yes
Thank you for your answer.
It's working.
Best Regards,
Jungwan