How to schedule monthly report for specific date range
Hello community,
I know how to schedule reports in Cognos, but I need help on how to schedule a report for a specific date range.
For instance- My user needs to have March 2023 data ONLY to be sent to her at the beginning of April. Then she will need April 2023 data to be sent in early May, and so on for the forseeable future.
Could you please tell me if there is a way to schedule this or to confugure this in Report Studio?
Kind regards
Joy
@J-Kap you will need to add the Last Month pre-built filter to your report, then schedule the report to run monthly on the first day of the month. That way it will pull the last month's data only. So, a report that is scheduled to run on April 1st, will return data for March only.

Thank you,
Kevin Dorsey
SAP Concur Community Manager
Did this response answer your question? Be sure to select "Accept as Solution" so your fellow community members can be helped by it as well.
Hi Kevin,
Thanks for your help, I found this expression below which seems to be working as it should. Is the below expression what you meant by Last month pre-build filter? Many thanks

[Sent for Payment Date] between _first_of_month(_add_months(sysdate(),-1)) and _last_of_month(_add_months(sysdate(),-1))
I have reports that are scheduled for the previous that come out the beginning of the next month. It is part of the scheduling.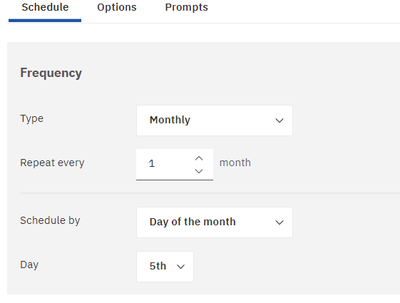 Nancy Murray
Agfa