How to pay my company back after it reimbursed me for Travel
I'm trying to pay my company back after a flight got cancelled and I got reimbursed for the flight. However when I'm trying to submit the expense so that my company can deduct it from my paycheck, I'm getting one error that asks me to select "Unauthorized card" category, but when I do that, it says I can't use that for out of pocket expenses. I'm not sure how to proceed here.
@shreejitg So, I looked at your expense reports and I see that you submitted the airfare expense back in May. To make sure I understand the situation, you paid for the airfare out of pocket, your company reimbursed you, then you canceled the flight and the airline refunded you the money, correct?
All you need to do is use the Type of Unauthorized Charge field and select the item I have highlighted. Although this wasn't mistakenly entered manually because you paid out of pocket, you still need to say your were reimbursed and that you owe the company money.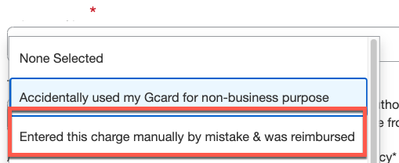 You should change the Expense Type to Air or Inter City Rail. Keep the I authorize Google to deduct the amount I owe from my pay checkbox checked. This should then get the company paid back.


Thank you,
Kevin Dorsey
SAP Concur Community Manager
Did this response answer your question? Be sure to select "Accept as Solution" so your fellow community members can be helped by it as well.